Home Page

Photo Gallery

Video Gallery

Facebook
Page
Print Prices

About the
Photographer
B/General
William W.
Spruance
Biography

Canon Notes

Copyright
Warning

Disclaimer

Click the image
below to go to
the gallery:
Copyright 2016
Spruance Enterprises
All Rights Reserved
Foot Loose Problem:
Has anyone found that the screw in connection on the new foot of the new 100-400 II is loose and can not be tightened enough to the lens? You will only notice the slack if you mount the lens on a tripod and try to move the lens. If I try to hand tighten the screw wheel, the lens still flexes at the joint of the foot housing and the lens.
Thanks,
WSpruance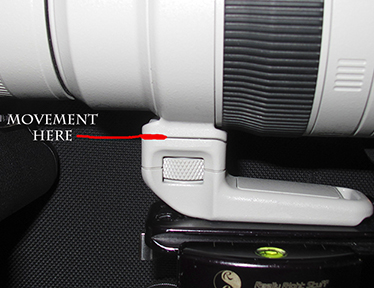 Foot Loose Solution: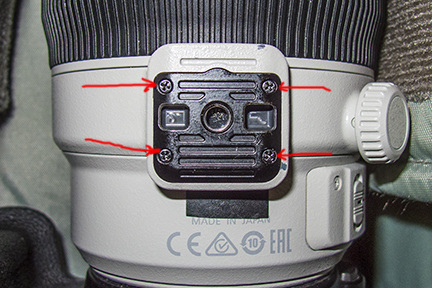 Being educated as an Aeronautical Engineer I have always loved the challenge of trying to fix something. I called Canon and Kirk Photo to find out if I was the only one with the problem. No one else had reported this problem. The gap between the foot and the lens was big enough to get m fingernail in between these two parts. The problem was the Phillips head screws on the black plate of the lens were loose. The protrusion of the screws were enough to keep the foot from seating properly. Using a small jewelers Phillips screwdriver the problem was fixed.

I thank Canon and Kirk Photo for their patience in helping me fix the problem. I highly recommend the replacement foot from Kirk Photo http://www.kirkphoto.c​om ...f_4.5-5.6L_IS_II_USM.htm
Pictured below is the LP-61 kit supplied by Kirk Photo and a size comparison with the Canon foot.