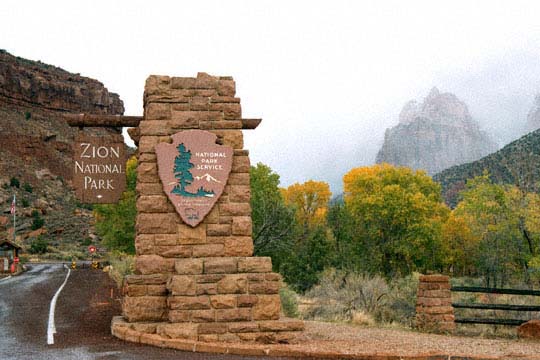 Zion National Park Utah
aa-1150_8a
Zion National Park, southwestern Utah, originally established as Mukuntuweap National Monument in 1909, became a national park in 1919. The park encompasses a scenic region of vividly colored canyons. The most prominent feature is Zion Canyon, a deep, narrow, vertical-walled chasm cut by the Virgin River; it is about 24 km (about 15 mi) long and 805 m (2640 ft) deep. Mormon colonists settled in Zion Canyon in about 1861 and gave religious names to many of the region's spectacular cones and buttes. The park also contains Kolob Canyon, which is rimmed by red sandstone cliffs up to 762 m (2500 ft) in height. Vegetation in the park varies from desert type to forests of pine and fir on the high plateau rims. Zion Canyon contains cliff dwellings that are at least 1000 years old. Area, 593.1 sq km (229 sq mi).
To visit the Zion National Park Photo Gallery please click HERE.
Visit other Photo Galleries of William Spruance
For reprints please go to Photo Reprint Order Page
All Photos are © Copyright 2002 Spruance Enterprises www.spruance.com
---
---
Zion National Park Utah